The HandBound Costumes Collection:
We thought it made sense to have a page on our blog where you could view our costumes which we have for sale both on
Etsy
and on our own
Website
- clever really!
So, welcome to the start of our collection. It is going to be permanently being added to and developed as the years progress.
V&A SHIFT - 1673-1718:
- 100% Linen
- Plain elbow length sleeve with gusset.
- Calf Length.
- Pattern copied from V&A's Shift and lay coped from Garsault.
Made out of a beautifully soft Linen, this shift has a neckline which is orginal and also perfect for the attachment of Tuckers and Modesty Pieces (please see
handboundcostumes.co.uk/glossary/
for the meanings of these terms). Garsault, in his book 'L 'Art de Lingerie' supplied us with a pattern lay for the maing of shifts and we have used this information to lay out our shift. For more Info please go to:
handboundcostumes.co.uk
.
Also, we've attached a photo of the original so that you can see our source of inspiration.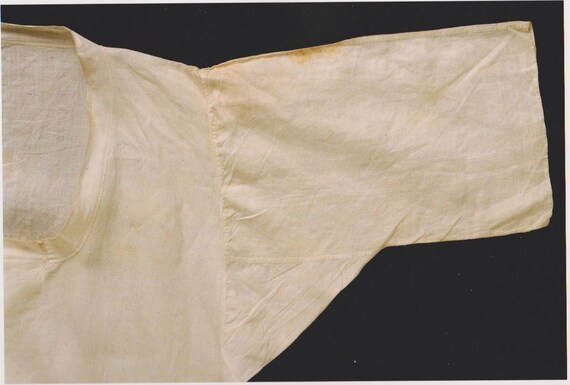 Image Courtesy of the Victoria and Albert Musuem. Dated 1673 - 1718
Basic Shift:
Details:
- Medium Weight 100% Linen.
- Draw-string neck with deep frill.
- Frilled Cuffs.
- Gusseted Sleeve.
- Godet inserts in length.
- Knee Length.
- Designed from basic shift seen in a Painting by J.S.Copley.
We knew we needed a shift that would tick the boxes of a ruffle at the neckline and short-ish ones at the sleeve and we almost whooped with delight when we came across the painting by Copley that had one painted in it that ticked all the boxes. Please see our
website
or click on the link here for the
garment page
to see more about this item.
Mob Cap:
Details:
- Double Frill.
- Double layered head band
- Made from a Fine100% Linen
- Based on original from 1751-1800
- Made to Measure for any Head or Hair size.
Made from an image we found online, this mob cap carries the basic element of high forehead inner point, a frill that frames the face and the band that fits the cap on. Some mobs had almost lappet style frills that came down to a larger area near the cheek and our next goal is to recreate some of the varieties found in museums and portraiture but for now, a basic and simple mob cap for those who need it! For more info on this
item please click here
or see our
website
here.
Philadelphia Stays:
Details:
- Based on an original from the Philadelphia museum and dated 1725-50s.
- Blue linen with ivory ribbon.
- Ivory contrasting thread detail for boning.
- Ivory thread for the central lacing section design.
- Leather bound edges.
- CB Lacing
- Handworked Eyelets
- Fully Boned using Cane.
- Made to Measure.
- 10 Panels
- Inner Boning
Based on the original in the Philadelphia Museum, this pair of Stays has been made to match the style and shaping of Stays from this period. Inner Bonings shape the CF curve which, as it's made from Cane, also mold to your body shape as you wear it. For lots more info on this corset plus info on our research and on the History of Stays please click the link here:
http://handboundcostumes.co.uk/product/blue-linen-stays-c-1725-50/
or take a look in general at our
website
.
Fan Hooped Petticoat:
Details:
- Fan shaped Hoop Petticoat.
- 100% Cotton Canvas.
- Floral 100% Cotton Trim.
- Cane boning.
- Steamed into Shape.
- Made to Measure.
Although it has a draw-stringed waist this garment gets steamed into a shape that should match roughly with the wearers waist width so it's useful to know what your waist measurement is. It can also be made less wide at the hips and at the hem if it's needed for a smaller dress.
And because it's cane it's pretty flexible and light!
For more info on the
Fan Hooped Petticoat please click on here
, or for a general look at our
website please click here
.
Our Jill Salen Stays in Pink:
Details:
- Based on a pair from C.1750 at the Colchester and Ipswich Museum.
- 100% linen with linen inner canvas work and linen lining.
- Self Bound.
- Hand worked eyelets in Pink.
- CF Lacing design with main lacing at back.
- Pink ribbon Trim to cover seams.
Based on a pair that Jill Salen studies in her book 'Corsets', this pair of Stays has been made to replicate the severity of the curve using many of the same techniques that the original uses to create that shape. It has been steamed finished but will mold to your body the more you wear it due to the cane boning.